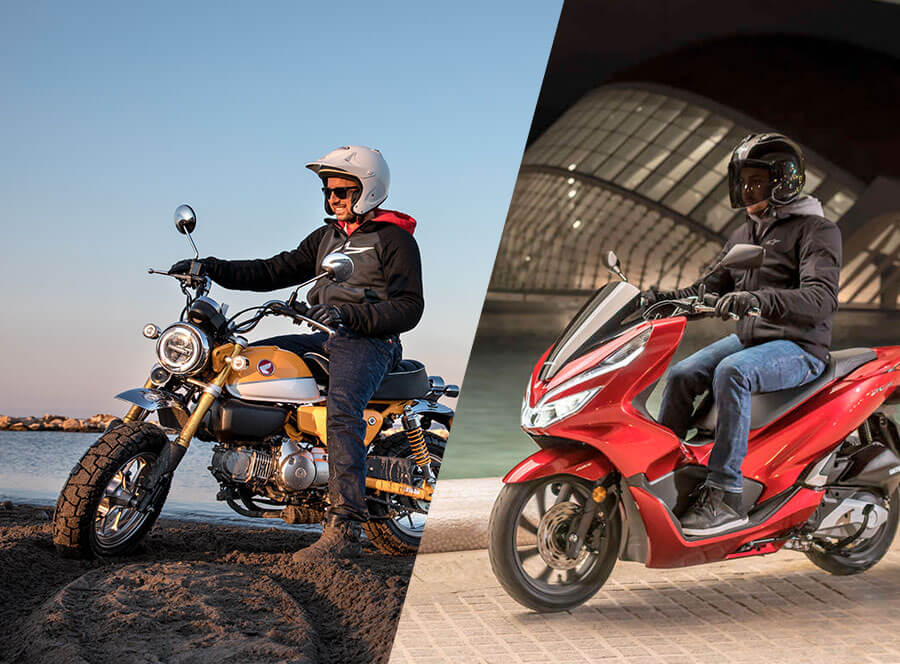 As a proud dealer for Honda's fantastic and detailed motorcycle and scooter range, we were over the moon to learn that two of Honda's 125cc models have taken home an award from the Honest John awards this year. Recognising their confident and all-encompassing control of the roads, the PCX 125 picked up the 125cc scooter of the year award and the funky, retro Monkey 125 took home 125cc motorcycle of the year. These machines are two that have taken interest of customers with a range of backgrounds, proving just how capable and flexible these bikes are - even for veteran riders.
For the PCX 125, they wrote: "The PCX encapsulates everything that Honda is famed for: build quality, plush suspension and ease of use. If that sounds dull, don't believe it for a moment as the PCX is very enjoyable to ride thanks to its nimble handling and excellent ABS-equipped brakes. Best of all, it's an affordable scooter you can use and revel in all-year round." A stunning review and a proud moment for Honda, fans and riders alike. Those seeking a scooter capable of providing economical, learner-friendly riding with a gorgeous look, the PCX 125 might be the scooter you were looking for all along. You can find it right here on our website or by visiting our showroom.
The Monkey 125 received a brilliant review, praising it for its unique and distinguished character, going on to say: "There are two types of people in this world: those who want a Monkey and those that don't get it. If you get it, you'll want one and the price is pretty much irrelevant. It's isn't cheap compared to many other 125cc commuters, but the Monkey is so much more appealing than most of its rivals. The looks, the style, the smiles all add up to a bike that reminds us of why we first wanted to start riding motorcycles." Again, we've got the Monkey 125 available both in-store and on our website if you want to learn more, or even secure yours today. Get in touch with our team to discuss your options.
Already riding aboard one of these fantastic models? Let us know your thoughts and opinions on your ride, we'd love to hear what you think of your ride. If you're just looking at getting started, why not see what everyone's talking about today. You can discover the full Honda range right here, with models across the range fit for each and every rider.