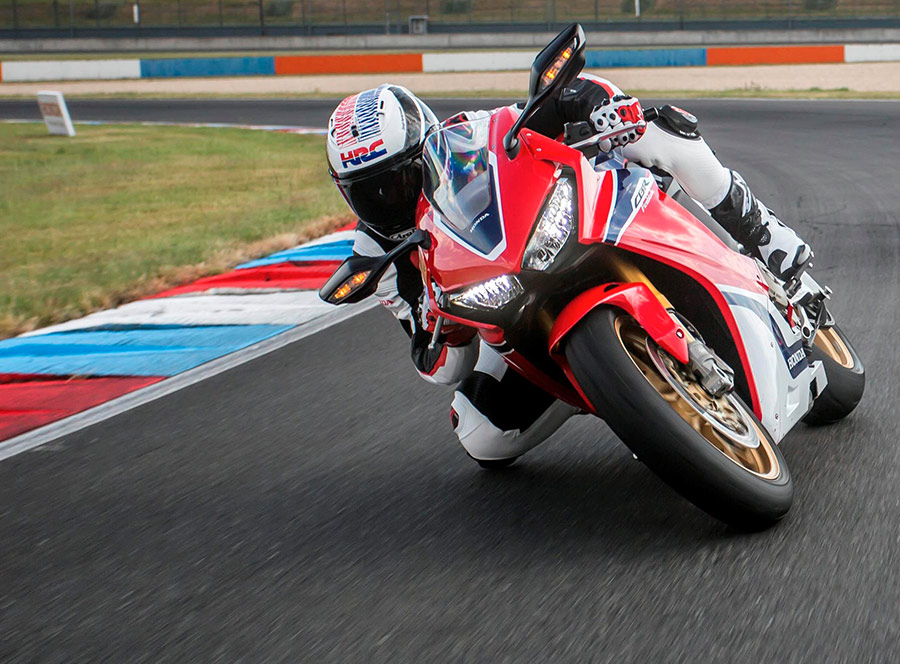 Honda Selectable Torque Control (HSTC)
For circuit riding, where throttle openings are wider and lean angles deeper than public road riding, changes have been made to allow improved vehicle behaviour during HSTC operation. By including into its calculation logic a consideration for the rear tyre profile, the intervention of HSTC as the machine leans has become more uniform and precise. The result is smoother vehicle behaviour during HSTC operation on corner exit, and increased confidence for the rider.
Wheelie Control
Many riders at a circuit wish to run a high level of Wheelie Control with minimum amount of HSTC input in order to manage wheelspin and slides, without fear of the front wheel rising too far with resultant loss of speed. Whereas on 17YM, low HSTC setting brought with it low Wheelie Control, these functions are now separated to allow set-up combinations such as low HSTC setting with higher Wheelie Control.
Furthermore, the new Wheelie Control system logic means that, however strongly the front wheel lifts, its 'landing' is smoothly controlled, and the rider is able to fully concentrate on acceleration performance for the best possible lap time.
Accordingly the TFT display now has a 'W' for 'Wheelie Control' (with 3 levels available) alongside the Power, Engine Braking and HSTC settings. 
Throttle response – corner entry
Circuit riding can see the throttle going from fully open to fully closed very quickly. To speed up deceleration when the throttle is closed, the operation speed of the TBW motor has been increased. The time required for engine rpm to drop when a fully-open throttle is closed has now been reduced by 45%.
The result is faster, smoother deceleration and increased rider confidence on corner entry.
Throttle response – corner exit
Reflecting input from the HRC MotoGP programme, the amount of torque delivered when further opening a semi-open throttle (such as at corner exit) has been increased, particularly in Power Mode 1.
The result is a performance level tailored for circuit running on high-grip tyres – with faster, lap time-reducing corner exit acceleration.
ABS
For high-speed circuit use, the level of ABS intervention has been reduced, and deceleration performance improved substantially.
Paint options
The Fireblade receives a subtle update of its Matt Ballistic Black Metallic paint, with Silver instead of Red highlights; the Grand Prix Red version features more defined white stripes on the upper fairings. The Fireblade SP's Grand Prix Red HRC Tricolour is also given stronger White and Blue accent lines.