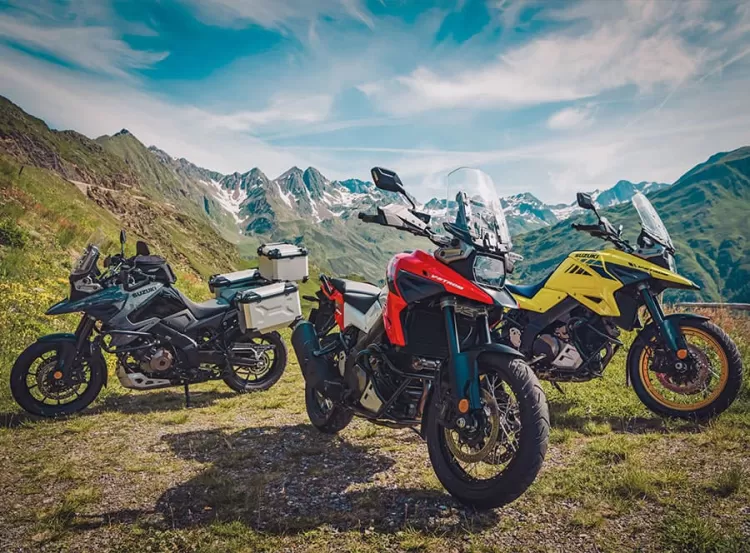 The moment you've all been waiting for has arrived, with new Suzuki motorcycles finally here and with a few new faces to join the legendary line-up, adding to its reach to riders across the country. Starting the year strong, you could be enjoying the road aboard a brand new Suzuki motorcycle. We've written a summary of the new arrivals so you can get the lowdown on what's fresh in the range and which model is right for you.

The all-new 2020 V-Strom 1050 & V-Strom 1050 XT
A stunning new arrival with its sights on conquering the adventure scene just as other family members before it has, the new V-Strom 1050 XT lets you freely escape the confines of your environment and make the most of every journey.
The new generation has arrived. With an all-new look, the V-Strom 1050 & 1050 XT carry a bold, strong angled look with use of a more muscular and squared frame, with its intricate details fitting perfectly in place. Utilitarian, rugged and built for the survivor, the V-Strom's strong looks hold true with protective bars along the frame, while the rider is seated "in the bike", settling in within the contours and feeling safe behind the high screen and handguards. Shielded from the elements, you can make every adventure last - even in the most detrimental conditions thanks to its capability.
The performance of powerful V-Twin engine makes short work of any challenge that may await, while offering incredible economy too. Characteristic, with a deep rumble from low rpm and as the revs rise, linear torque floods at your control enabling you to take the control you need, when you need it. Peaking up at 107.4PS power, you can enjoy a thrilling ride.
The intuitive tech inside the V-Strom makes it even easier to control your adventure. With a full LCD instrument panel, your information is offered clearly and precisely when you need it, all with an easy-to-read layout that displays the correct information with priority in mind.
If you're interested in taking your adventure to the next level, learn more here about the new V-Strom 1050, or learn more about the new V-Strom 1050 XT.

The new 2020 Suzuki GSX-R1000R
It wouldn't be a faithful mention of Suzuki without talking about the legendary GSX-R1000R, whose name is synonymous with incredible power and performance. After years of dominating the supersport category with endless success, each iteration seems to build even further towards what could be considered a perfect sports machine. Suzuki continued this tradition heading into 2020, with an evolved version of their crowd-favourite.
Equipped with some of the most advanced rider technology available, directly derived from racing technology used in the MotoGP such as a Motion Track Brake System, Motion Track TCS (Traction Control System), Suzuki Drive Mode Selector, Launch Control and a Bi-Direction Quick Shift System. But it's not just about technology..
The incredible style and performance of the GSX-R brings potent power to your fingertips throughout the gearbox and its respective rev range. Accessing 202PS power and an incredible 117.6Nm of peak torque, you're guaranteed on-demand performance for the task at hand; whether you're breaking free of city traffic or making a new record time on a circuit you know like the back of your hand.
Discover more about the 2020 GSX-R1000R here on our website and if you're interested, get in touch today to secure yours.