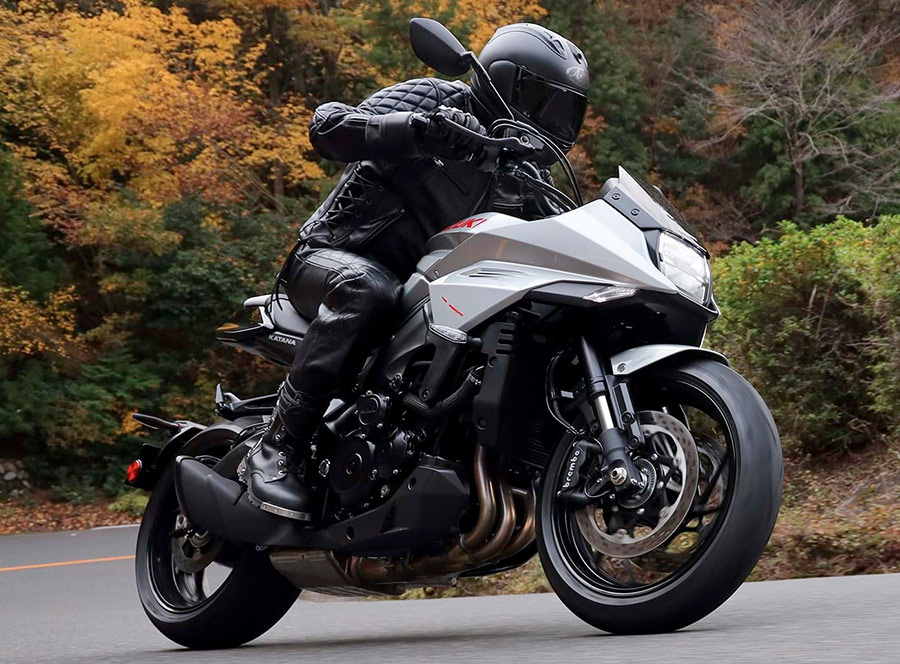 Polished to a magnificent radiance, engineered to provide maximum control and optimum performance. Finely crafted to take riding pleasure to a new level. The Suzuki Katana is destined to create a new legend.
From the sharp lines defining the length of its body to the performance of its 150PS engine, every detail of the Suzuki Katana speaks of distinctive beauty. While its design cues pay due homage to the 1981 iconic GSX1100S KATANA, which stole the hearts of riders around the world, the KATANA is a thoroughly modern machine that is breathtaking to behold and inspiring to ride.
Heart of Katana
A long‑stroke design with a 73.4mm bore and a 59.0mm stroke allows the combustion chambers to be compact. It therefore allows a combination of an optimal compression ratio, a flat‑top piston shape, and a broad spread of power throughout the rev range. Advances inside the engine begin with the pistons. Suzuki used finite‑element‑analysis techniques to make the pistons light without compromising their rigidity. The benefits include broad torque and quick acceleration.
Cam profiles optimise the valve timing to achieve power characteristics that are ideally suited to city streets and twisty suburban roads. Iridium spark plugs ensure strong sparks for efficient combustion that translates into higher power, linear throttle response, easier engine start up, and stable idling.
Distinctive Exhaust Roar
The exhaust system has a 4‑2‑1 design with equaliser pipes between the 1‑and‑4 and 2‑and‑3 header pipes. The system fine‑tunes the exhaust pulses for strong low‑to‑mid‑range output. The exhaust chamber after the joint section fits under the engine, so the muffler is minimally sized for a clean, agile look. A catalyser in the exhaust chamber keeps emissions low enough to satisfy the strict Euro 4 regulations. The exhaust pipe incorporates a Suzuki Exhaust Tuning (SET) system. A servo‑actuated butterfly valve opens to a degree calculated from the engine speed, throttle position, and gear position. It controls exhaust pressure waves to enhance combustion at low revs.
Suzuki Clutch Assist System
Equipped with the Suzuki Clutch Assist System (SCAS), the clutch acts as a slipper clutch system when changing down rapidly. SCAS is an advanced clutch system supporting both sporty riding and less fatigue on long rides.